---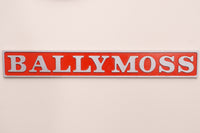 Replica Nameplate from Deltic 55018 Ballymoss.
Our scale replica nameplates are very popular items, either as gifts or to hang on the wall in the Man Cave! 
Laser Cut from MDF, our nameplates are approx 6mm thick and 570mm long. They are very light and can be affixed to a wall with velcro strips, so no drilling is required. 
They are spray painted, with the silver lettering and beading finished by hand. As such they can take some time to produce, While we do get these made as quickly as we can, at busy times they may take up to 28 days to deliver. If you need one urgently please get in touch with us